Strapping :
Features & Benefits of Different Types of Strapping Materials
There are different types of strapping materials, each one offering its own advantages. Steel, polyester, and polypropylene are among the most commonly used materials. In fact, there are further types of steel straps that offer different kinds of properties. Explore the benefits and features of all these different materials.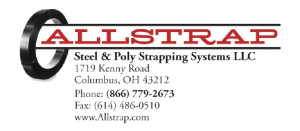 Steel Strapping
Steel strapping is the most widely used banding material and among the oldest in use. It is ideally suited for heavy-duty applications, including heavy construction materials, equipment, and steel coils. Different types of steel straps are used in the industry, including the following:
Regular Steel Strapping: Regular steel straps have low carbon and are suited for heavy shipments where high level of protection is required. The metal can withstand high level of dent.
High-Tensile Steel Straps: High-tensile (HT) steel strapping is considered even better for heavy-duty applications such as securing train cars, steel coils, and trailers. It is also suited for railroad shipments.
Stainless Steel Straps: This type of strapping offers higher resistance to the elements. This makes it even better than steel straps for outdoor applications. It can outclass steel in most areas, making it a better option.
Zinc Coated Steel Straps: When it comes to applications involving long-term storage, zinc coated steel strapping is considered an ideal choice. The coating prevents corrosion and rusting, and also protects against UV damage.
Features
Some of the common features of all the different types of steel straps are as follows:
Ideal for large loads
Can be used in hot temperature conditions
Offers very high break strength
Excellent UV resistance
Highly durable
Polyester Strapping
When it comes to polymer strapping, polyester (PET) strapping is the most widely used material in the industry. This is due to its properties like high durability and strength. In fact, it has also been used in various industries for replacing steel strapping. It is different from steel in having excellent elongation and recovery capacities. This means it is perfect for loads that are likely to shift during transportation or storage. The elongation capacity also helps in minimizing the effects of momentum shifts during transportation, thus providing safety. Its recovery capability provides the benefit of pulling the load back to its original position. PET strapping is the strongest among all the different types of plastic strapping.
Features
Offers very high break strength
Exceptional elongation and recovery properties
Can be used with tools generating high amount of tension
It is suited for medium to heavy-duty strapping applications. Polyester strapping is also perfect for loads that can expand and contract.
Polypropylene Strapping
Polypropylene (PP) strapping is suited for light to medium-duty applications. This can include palletizing, unitizing, and bundling. It is a more affordable material. It should be avoided in applications where there is constant pressure on the strapping. Such pressure can cause irrecoverable stretching.
Some of the main features of polypropylene strapping are as follows:
It is an economical choice
The material offers highest amount of elongation
It has low level of recovery
PP strapping has low strength comparatively
It should be used for short transportation requirements. It is also recommended to be used in applications where the load needs to be protected against the environment.
Overall, plastic strapping is used in applications involving lumber, paper, and fresh produce. It can also be used to reinforce stretch wrapped pallets.